Colt Recycling's headquarters is located in a secure 75,000 square foot facility in Hudson New Hampshire. Our facility is equipped to safeguard our people and the environment. Our unique processing system selectively dismantles E-Scrap, introducing sub-assemblies into our custom designed shred and separation equipment. The by-products from the system are reduced to ½ inch sized particles that are used as raw material feedstock supplied to various aluminum mills, copper mills, smelters or our Merrimack refining operations.
Our asset recovery services compliment our recycling capabilities. Equipment received for asset recovery flows through a process of bar code tracking, inventory, testing, and remarketing. This can include component level and/or complete systems. Products that are not re-marketable are reintroduced into our recycling system.
Colt recognizes its responsibility to protect our customer's materials as it flows through our processing systems. Our facility is secured using an extensive network of keycard card access, high-resolution surveillance cameras, metal detection scanners, and a full-time security officer to ensure our customers' materials are safe and secure.
Recycling
Headquarters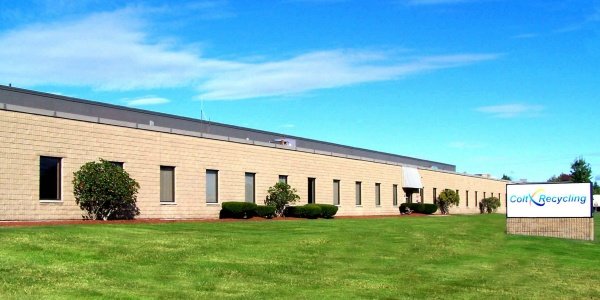 6 Hampshire Drive
Hudson, NH 03051
Phone: 603.886.9119
Fax: 603.886.9279
Southeast
Location
816 13th Street, NE
Hickory, NC 28601
Phone: 828.358.4854
Continental
Location
15 Continental Blvd
Merrimack, NH 03054
Phone: 603.262.9119
Fax: 603.429.3255
12 Star Drive
Merrimack, NH 03054
Phone: 603.429.9966
Fax: 603.429.3255
CRI's headquarters is located in a 50,000 square foot secure facility in Merrimack, New Hampshire. In addition to our refinery and assay laboratory, the facility houses our corporate, sales, marketing and customer care operations.
Our facility, equipped to safeguard our people and the environment, include balers, ball mills, hammer mills, granulators, sifters, blenders, processing ovens, melting furnaces interfaced with after-burners, baghouses and dust collectors.
Our facility also has the ability to chemically strip precious metals from substrates through the use of three strip lines with rotary cages.
We recognize our responsibility to protect our customers' precious metal scrap as it flows through the refining circuit. Multiple weighing control points ensure proper accountability. Access is restricted within building and grounds using high security technology. An extensive network of internal and external surveillance cameras and alarm systems ensure maximum security.
At CRI we understand the importance of making all our processes available for inspection by our customers. We have a safe and secure environment where customers can represent their shipments throughout every step of the sampling and refining process. We welcome you to come by and visit with us so that you can see first-hand how we differentiate ourselves from the competition.
Our ultramodern assay laboratory ensures the highest quality of analysis. Our chemists and technicians employ combinations of traditional fire assay, wet chemical analysis, atomic absorption spectrophotometry, and other sophisticated instrumentation techniques to determine precise precious metal content. While CRI is a recognized leader in the recovery of gold and silver, we also are widely known for our expertise in the recovery of platinum, palladium, and rhodium.